For the second year in a row at the Wanaka Show held last month, one of Devold's wool suppliers in New Zealand, Glenmore Station, was named grand champion in the prestigious "Fleece" competition. Scoring 99 out of 100 possible points for their " Merino Ram Fleece", the wool stunned the judges with its near perfection. "The winning fleece was unique", says Chief Wool Steward at Wanaka Show, Martin Paterson.
Glenmore Station owners Will and Emily Murry who run 11,000 merino sheep in the McKenzie Basin, near Lake Tekapo were proud defenders of the title for the second year in a row. The focus at Glenmore has been to consistently produce high quality merino and this effort and investment has led to the ongoing relationship with Devold as part of the companies "Sheep to Shop" ethos.
"The sheep keep us busy and out of trouble," Ems Murray says proudly, laughing.
A number of Devold's products are made exclusively with wool from Glenmore Station.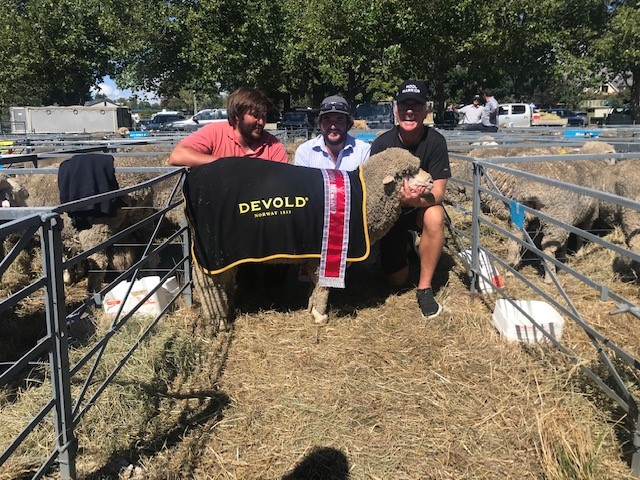 Other notable category winners at The Wanaka Show are also growers contracted to supply wool to Devold. Out of the 180 fleece entries Armidale almost made a clean sweep in the "Fine merino" and "Medium merino" categories and in the "Polled Merino" categories. Simon and Sarah Patterson of Ranfurly are founding members of the Devold "Sheep to Shop" program and consistently produce winning fleeces
Martin and Penny Murry of Maryburn Station lakeTekapo, also did extremely well and won two Grand Champions categories, for their rams, and took home the Supreme Grand Champion of the show award.
Smith, who personally selects the wool used, also shared that Devold is looking to launch an online store to the NZ market in the near future, so "our country can also enjoy access to these great clothes and support local farmers".
Humble winners
Sheep production is one of the largest industries in New Zealand. The small country in the middle of the Pacific Ocean is similar to Norway in many ways. The climate, the steep mountain sides and huge uninhabited landscapes. Here, the merino sheep has been allowed to develop for hundreds of years, and the production of the finest wool has been inherited through generations.
If Norwegians are born with skis on their legs, the kiwis may have been born with a shepherd 's stick in their hands and wool fibers between their fingers. Breeding championship winning Merino wool is somewhat of a skill and passion learnt over many generations.